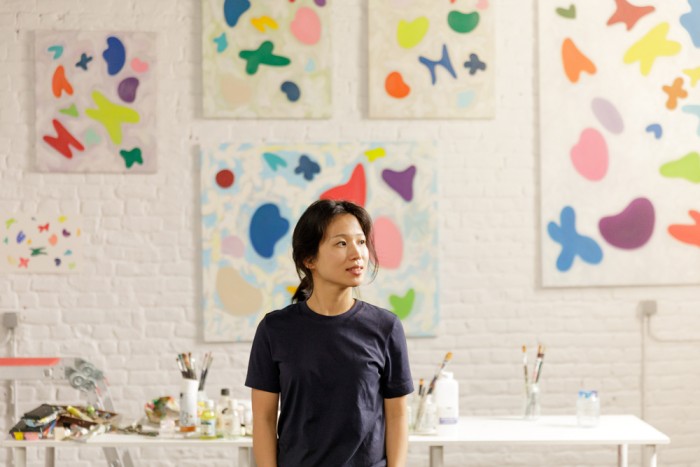 WOO KIM
IN SEARCH OF THE COLOR OF THE MOMENT


Woo Kim is a Korean artist, born in Seoul, South Korea in 1982. She has lived and worked in Brussels since 2013.

After her successful first solo show in Belgium, «Spontaneous Hesitation» held in Library Solvay in 2020, she began to make a name for herself in Belgium with her famous shape "Deongeori 덩어리"

Woo Kim composes the screen with colorful shapes to catch the movement. Her unique shapes, called Deongeori 덩어리 in Korean, are a concept that the artist has developed since 2018. She creates organic patterns through these Deongeories. She is inspired by her circumstances such as nature, people, and everyday life. And these personal stories of her are expressed in a fun way through her paintings, often developing into a playful installation art.

The Deongeori, which is expressed in a unique shape and color on each screen, is an expression of the individual(object's) WILL to determine one's own direction at every moment. In this way, the Deongeoris are constantly evolving with a unique identity in various colors and shapes, giving birth to the current Narcissus and Bundle series.
[Contact]
E-mail: lovewookim@gmail.com
Instagram:
@wookim_studio